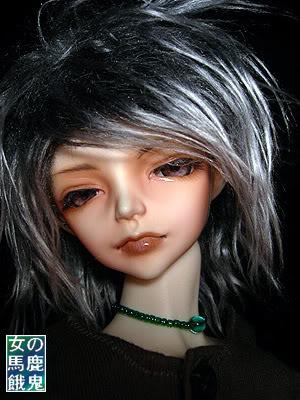 Name:
Chikara
(
his Live Journal tag
)
Name Meaning(s):
Japanese for power, strong, strain, bear up, exert
Nicknames:
Brat, Little Shit, Stinker, Tiny Dancer, Stinkerbutt, Cat, Kitten, Damned Cat, Bad Cat, "get out of that/there!"
Arrival Date:
May 24, 2006
Birthday:
October 31
Model:
Dollzone Megi, 45cm (1st gen body-one of the first Megis produced)
Skin:
new normal skin
Face up:
by Dollzone artist Ulat
Customization(s):
none at this time
Wig:
Default frosted grey (this will change periodically for holidays)
Eyes:
Default green Dollzone 16mm
Age:
He hasn't told me yet, but he has quite a few centuries on him. He is still a child in many respects, however.
Nationality:
not from around here...
Blood Type:
O
Height:
131 cm;
Weight:
changes it at will when he wants to cause trouble
Shoe Size:
He used to not like wearing them but he now enjoys the fashion statements he makes with them, so he wears them all the time.
Sexual Preference:
Although he has not shown any sexual inclination toward anything at this time, he has been approached by a few girls and has acted mildly interested.
Favourite colours:
Purple, green, burgundy, red
Favourite food:
Whatever is not moving. (Don't eat that!)
Occupation:
Spreading chaos wherever he goes
Looks:
Fabric draped on body, Asian-inspired cuts, traditional Japanese, he now likes modern clothing (teeshirts, jeans, shorts) because his friends wear it
Secrets:
I don't think we want to know all the details... He is a polymorph who leans toward the feline variety but enjoys being in his current form because it allows him to dance and move his body in a lyrical manner while having hands and opposable thumbs so he can open things.
Hobbies:
Causing havoc and mayhem, pestering people, eating, getting in the way, licking wallpaper, burping The Star-Spangled Banner (his friend in San Francisco taught him), dancing, singing both off-key and on-key depending on his mood and who he wants to irritate doing it, sleeping in dirty laundry.
Personality:
Outrageous, brazen, very cat-like ("I want this so it is mine now!"), an ex-loner who discovered he likes being cuddled by humans.
Likes:
A large fluffy warm soft place to sleep; food; singing and dancing; cuddling with Shuichi; messing with Hatori's hair; pissing-off Eiri; playing with his 'pet', Shindô; his stuffed kitty, Kitty and his stuffed bunny, Usagi Dagger; LOVES his FANCLUB!
Dislikes:
Being ignored; Eiri; being told he cannot eat something; the word "NO!"; his brother, Nasake.